WHAT IF I TOLD YOU THAT YOU COULD LOSE WEIGHT WITHOUT DIETING OR SPENDING HOURS IN THE GYM?
OR BETTER YET, WHAT IF I TOLD YOU COULD FEEL CONFIDENT IN YOUR BODY RIGHT NOW BEFORE YOU LOSE EVEN A SINGLE POUND?
 
PSSSSSSST...YOU CAN.
And I'm going to show you how
So keep reading, because what you learn on this page might be the most impactful body changing strategy you'll ever come across...
...and it has almost nothing to do with your body.
SO LET ME GUESS....
You spend all your time at the gym on a cardio machine because walking into the weight room is intimidating AF
You've tried programs in the past but they were too time consuming and restrictive
You feel like you've been on diet after diet and still can't find something that you can stick to
You find yourself saying over and over, "I'll start tomorrow"
You're overwhelmed and confused because there is so much information out there and you don't know wrong from right
You look in the mirror and feel uncomfortable in your body
You want help making changes, but you're not getting support from the people in your life
How did I know? Well, because this was me.
Hi. My name is Devon Day Moretti. I'm a personal trainer, nutrition specialist and self love enthusiast.
I know what it feels like to feel uncomfortable in your body and to constantly find yourself starting over on your fitness journey.
At one point, I eventually felt like something was wrong with me because I couldn't "get my shit together" or so I thought...
BUT, HERE'S THE TRUTH ...
After months—years, really—of struggling with my diet, trying every exercise routine on the planet, and using negative self-talk as my primary form of motivation, I came to a realization.
There was nothing wrong with me...but there was something wrong with the approach I was following.
Now, let me just say this: as a coach with years of experience, I'll tell you straight out that there's no single "right way" to approach fitness or change your body...
...but there are A LOT of wrong ways. And I was using most of them.
It took me a long time to see it, but most fitness and nutrition programs are NOT about long-term lifestyle changes.
They're about radical alterations for short term gain.
You know the ones I mean, right? These are the programs promising quick results, and marketed as THE solution. We buy in because we WANT to believe. And we follow these insane plans because they're so hard to follow—and if it's HARD, it must be working, right?
I'm talking about the juice fasts. The crash diets. The marathon gym sessions. Plans like that aren't healthy. And they certainly aren't designed for sustainable results.
Trust me, I remember reading about them and hoping they'd work, wanting so badly to find that one thing that would make all the difference.
But, eventually, I realized something. Something big.
All of these crazy plans may be different from one another, but at the core, they all have ONE thing in common: they're sold to us by targeting our insecurities and making us feel badly.
We're constantly bombarded with this notion that being smaller, weighing less, or getting rid of our cellulite is the key to happiness, confidence, and a perfect life.
We're told these things are tied directly to our worthiness.
But they're not. So it's no wonder that every time we fall off or gain the weight back we are left feeling alone and unworthy.
Once I realized that, I did a deep dive into all aspects of healing and changing my body. Sure, I learned the most effective ways to train and eat to help me get stronger and feel better physically.
But I also explored all the facets of mindset that had held me back; the limiting beliefs that my value as a person had something to do with my body and the way it looked.
And here's the crazy part...
Once I unlocked the mindset piece of it, and really began to love myself just as I was...changing my body became easier than ever
And I want to help you experience that experience.
That same ease.
That same change.
That same love—for your body, yourself, and your life.
It is my absolute mission in life to help as many women get out of this cycle as possible. To free themselves, just like I did, and show them another way; to give them the option to be happy now.
That's why I started my coaching program. And it's why I want to work with women like me, women like YOU—to help you realize that changing your body can be easy; it just doesn't need to be the center of your life.
Because girlfriend, you are already enough.
You're enough NOW.
Not when you lose a few pounds.
Not if you can just get rid of your cellulite.
Not once you fit into your old pair of jeans.
Not once you get "just a little leaner."
Not later.
But as you are, right now. Not when something else happens.
Your worth...your happiness...your value is NOT contingent on changing a single aspect of who you are or how you look.
You're are enough—right now.
But, like I did, you just need a little help REALLY understanding that.
So let's unravel all the bullshit.
It's time to live a forever healthy lifestyle and most importantly love yourself, the real way.
I'm going to give you a powerful strategy and the tools to create a healthy mindset that's not only helped me but hundreds of other women just like you.
"I've lost 15 lbs so far"
"Devon's program is sustainable"
INTROUDCING...
EMPOWER-HER COACHING
a coaching program designed to help you feel empowered and confident in your skin.
THIS PROGRAM TEACHES YOU HOW TO...
WORKOUT CONSISTENTLY & EFFECTIVELY
Let's face it, not everyone has the time to workout 5-6 days a week for hours at a time.
This program is going to meet you where you are at and will accommodate to your lifestyle without being an added stressor.
You won't find yourself walking around the gym feeling clueless. You will have an exact plan and video demonstrations of the exercises so you can walk into the gym with confidence knowing exactly what to do and how to do it.
LEAVE BEHIND DIETING
I am going to work with you one on one to show you how to leave dieting behind and still be able to lose weight.
You will know how to fuel your body properly and not feel restricted doing so.
LOVE YOURSELF
You are going to go through an entire course that teaches you how to feel confident in your skin during this entire process.
This course gives you the tools to leave behind negative self talk and comparison. You will be able to accept your "flaws" and "imperfections" for what they are without letting it define you.
It's time to feel confident in your skin, once and for all.
"Before the program I dreaded and often refused to take pictures due to my lack of confidence. But thanks to Devon, her support, and her program, I have fallen in love with myself and decided to do a shoot where I was the focus. Something I love about Devon & her program is that she teaches you how to love yourself and feel confident even before you get to your goal weight. A program on teaching you how to love yourself is great but what sets Devon's apart is her passion and dedication in seeing that your confidence builds and your self worth increases, as it should."
"Devon this all sounds great, but how do I know I can hold myself accountable and put the tools to practice?"
Well babe, the reason my program is so successful is because you won't be doing this on your own.
Yup, that's right. You have me guiding you through this entire process. I am going to hold you accountable, encourage you, and provide you with nothing but love. I've got you boo.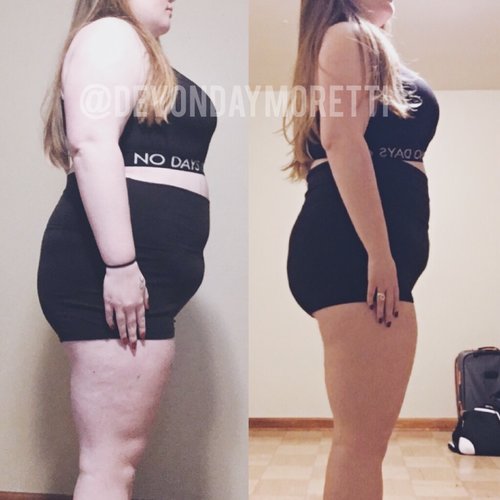 "Devon is absolutely amazing to work with. Despite the fact that she couldn't physically be with me to keep me on track, her presence was never far. Believe it or not, her presence is just as effective as paying double for a trainer to have in person. Her program has really taught me how to love myself more and how to embrace a lifelong healthy lifestyle. I've lost twelve pounds with my first 4 weeks of working with Devon and continue to lose with the tools that she has provided me with. She's an absolute sweetheart and one of your best supporters."
EMPOWER-HER COACHING INCLUDES:
"I've gained confidence, self love and a friend"
"I've learned to love and appreciate myself no matter what size I am"
I MEAN, CAN YOU IMAGINE BEING ABLE TO....
Walk into the gym confidently knowing exactly what to do and how to do it
Eat your favorite foods and not feel guilty about it
Enjoy living a healthy lifestyle and be able to sustain it
Lose weight AND feel confident during the process
Finally feel like you are enough
GOALS RIGHT!?
So what are you waiting for? Apply now and let's talk!
FREQUENTLY ASKED QUESTIONS
DOES THIS PROGRAM INCLUDE A MEAL PLAN?
This program does not include a meal plan, instead you get something better! Aside from the entire nutrition guide, grocery list and cookbooks - you get one on one coaching with me. This is better than a meal plan because the goal is to teach you how to create a healthy lifestyle and balanced way of eating that you can sustain for life and works best for YOU.
DO I NEED TO HAVE ACCESS TO A GYM?
Yes, you must have access to a gym whether that is your local gym or apartment gym.
HOW MUCH WILL IT COST TO WORK WITH YOU?
There are a few different packages available, and after you apply we'll figure out which is right during our consultation chat. But, no matter which option we go with, working together is going to cost less than you'd spend for just ONE session with a personal trainer at the local gym.
I'M STILL NOT GETTING EXACTLY HOW THIS WORKS...HOW DO WE INTERACT?
This is the coaching part of the coaching program :)
Put as simply as possible, I'm with you every step of the way. I'm always there to give you the goods, whether you need information, motivation, or inspiration. And especially to give you the accountability to help you stick with things and make progress, AND the guidance you'll need to make the right choices in the moment.
Not sure what to order at a restaurant? Text me.
Can't get the form right on an exercise? Shoot a quick video on send it over, I'll assess you on the spot.
Need a daily dose of fitness flavor to get you excited for the gym? Cool, I've got a ton of Instagram inspiration for you.
Going to a wedding in a few weeks and want to look ultra sexy in that new dress? No problem, I've got you, we can make some tweaks to your program.
My point is this: whether you need a shoulder to cry on, an ear to listen to you, or someone to help you celebrate your wins (and you're going to have a lot of wins), I'll be right there to support you. And to give you some tough love when you need it.
A good fitness program is all well and good, but the thing that makes my clients SO successful is the interaction with me and the entire Empower-Her community on social media. That's the difference maker.
"She never shows an ounce of judgement"
"Devon is always there for you and never judges you"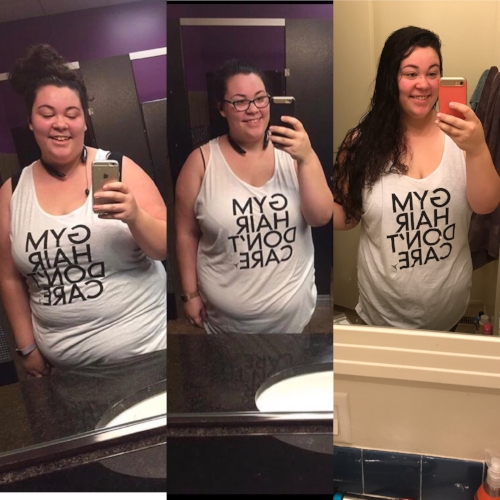 "Working with Devon has been the best investment of my life. I lost weight, but gained confidence, self love, strength, and a friend. If you decide to work with Devon, which you should, you'll never be alone. She will be with you every step of the way."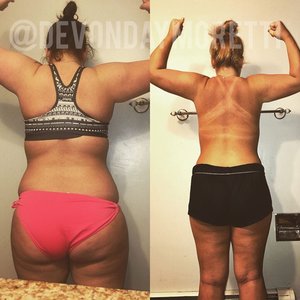 "Deciding to work with Devon was one of the best investments I have ever made for not only my physical health but my mental health as well. So far, I'm down a little over 50 pounds, I've gained a lot of knowledge about lifting, my body, nutrition and the gym in general. With Devon's help I've accomplished so much."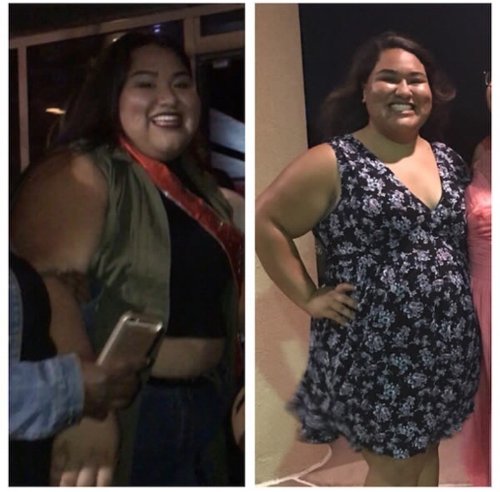 "Training with Devon became my key to success, confidence, and most of all, self love. She opened a door to a new life style that transformed me from the inside out. Although we live half way across the country from one another I never felt alone. She was ALWAYS there when I needed her and even when I didn't think I did. She gave me the tools to empower myself and to implement the changes I needed in my life"